3 Frutti srl
Distribution of fruit and vegetable
Our company was founded in 2014, we deal with the wholesale of a wide range of fruit and vegetables. We are specialised in mixed loads, by checking each product and adjusting transport times and temperatures we aim to offer the highest quality products. In addition to satisfying the final customers, thanks to our experience we also try to establish consistent relationships which are based on seriousness, professionalism and trust. The organisational efficiency and direct contact with our partners allowed us to expand our rapidly growing market through the trade with many European and non-European countries.
Every day we try to put our heart and enthusiasm into everything we do. The company provides high quality fresh products of Italian origin at affordable prices. In order to offer the typical high-quality of "Made in Italy", each load is meticulously checked by staff and company directors before delivery.

Our distribution centers
Our operating offices and loading points are located within the Interpatavium customs warehouse in the industrial area of Padua: this strategic position allows us to have a logistical advantage to support our customers. We own a 4000sqm warehouse, equipped with cold rooms, which is designated as stoking and storage of goods. We are also present in the Agri-food Market of Padua, the most important and well-stocked market in Italy.
Our Customers: Italy, Europe and Eastern Europe
Our international market is growing by the second. We value the quality of the product as well as how it is stored, it is for this reason that we make sure that each mean of transport is suitable to carry goods. Our sales staff is highly skilled and always ready to satisfy every customer's needs as well as to guarantee logistical and linguistic assistance.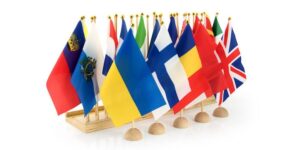 Fruit Logistica: an opportunity to get to know each other
Fruit Logistica is certainly one of the most important exhibitions in the fresh fruit and vegetables trading. 3Frutti S.r.l. is proud to participate as an exhibitor regularly and to establish important business relationships. In our stands you can find our Area Managers interacting with Italian and international speakers, they will be happy to show you the high quality of our service.
For 3Frutti, every Fruit Logistica event is an opportunity not only to build new relationships, but also to listen and, therefore, promptly respond to the needs of our customers.